Where hurricanes are concerned, preparation and partnership by individuals and communities are needed. Although activity peaks in mid-August through October, the full season runs from June 1st until November 30. At The Catamaran Company, preparation for one hurricane season begins almost as soon as the previous season ends.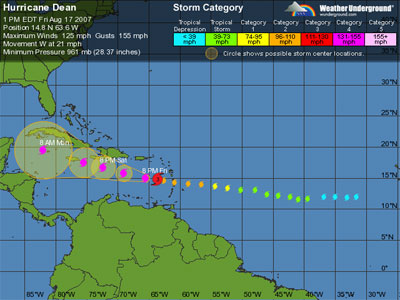 Hurricane Dean is turning out to be a powerful adversary against the sun-kissed Caribbean islands. Swirling dangerously close Thursday night, forecasters were prompted to extend tropical storm warnings to the U.S. Virgin Islands and Puerto Rico.

According to the National Hurricane Center, Dean is presently a category 2 storm with sustained winds of 100 mph and is expected to pass near the islands of St. Lucia and Martinique early today, on a trek across the Lesser Antilles into the Caribbean.

Martinique and St. Lucia are under a hurricane watch as are the islands of Guadeloupe and Dominica. People on the islands were highly encouraged to wrap up any preparations to protect their safety and property.

At 11 p.m. ET, Dean's eye was about 160 miles (258 kilometers) south-southeast of Martinique and about 80 miles (129 kilometers) northeast of Barbados, traveling west at about 25 mph.
Forecasters are predicting some mountainous areas will see at least 10 inches of rain, which threatens the area with flash floods and mudslides. Storm surge flooding as high as 4 feet and battering waves was also forecasted.

Tropical storm warnings have been issued for Puerto Rico, the U.S. Virgin Islands, St. Vincent and the Grenadines, Grenada, Barbados, Saba, St. Eustatius, Montserrat, Antigua, Nevis, St. Kitts, Barbuda, St. Maarten and Anguilla.

A tropical storm warning means that tropical storm or hurricane conditions are expected in your area within 24 hours. "Conditions" indicate that winds, surge, wave, flooding, tornadoes, or any combination of those typical of a tropical storm or a hurricane are possible.

A tropical storm watch was issued for the southern coast of the Dominican Republic, which means that it's a possibility they could be seeing storm conditions within the next 36 hours.

Current forecast tracks demonstrate Dean gaining strength as it moves further west on a path South of Puerto Rico, the Dominican Republic, Cuba and Haiti. Dean is expected to reach Category 3 strength by Saturday, with winds at a minimum of 111 mph.

By Sunday, forecasters see Dean reaching a Category 4 status, with excessive winds of up to 131 mph as it moves toward Jamaica. The current forecast model shows the cat 4 storm's path into Mexico's Yucatan peninsula come Monday. It is expected to weaken by then and re-enter the warm waters of the Gulf as a Category 4 storm.




For more additional information, please visit www.catamarans.com